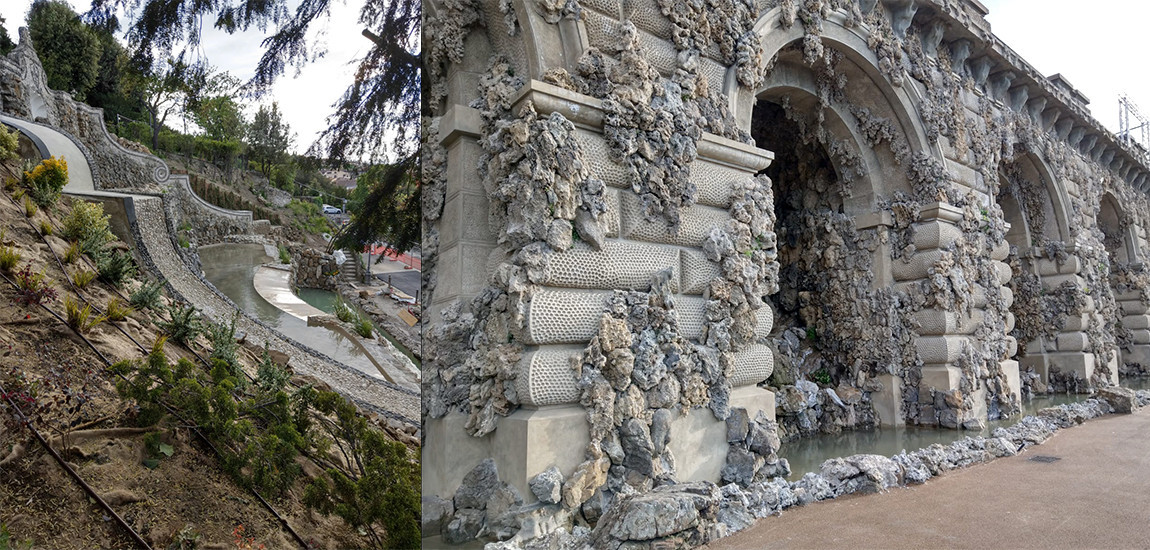 The restoration of Giuseppe Poggi's Ramps
In the second half of the Nineteenth Century, after Florence had become the capital of Italy, the city changed its appearence due to the work of architect Giuseppe Poggi, in charge of the so-called urban Restoration. The city walls were demolished, the viali (avenues) were created inspired by Parisians boulevards, Campo di Marte station was built, numerous green areas were rearranged and whole neighborhoods reorganized.
Among the works included in Poggi's project there was also the construction of the Ramps of Porta San Niccolò, a system of staircases developed on three levels that reaches Piazzale Michelangelo.
The Ramps, built in 1876, recently underwent a restoration and were brought back to their original appearance. It was a particularly complex restoration that lasted almost a year, and was entirely financed by the Cassa di Risparmio di Firenze Foundation.
The intervention brought back into operation the fountains inside the beautiful caves made of masonry covered with worked plaster, sponges, stones and mosaic. Furthermore, it was also reintroduced the plant component envisaged by Giuseppe Poggi's project in collaboration with the botanist Attilio Pucci: a total of 1200 aquatic plants and 200 species of climbing plants and ornamental plants.
Particular attention has been given to the creation of the new hydraulic system, sustainable from an environmental point of view, which includes a water recirculation system that is pumped from the main reservoir and comes out from the top and fill the first tank. Then it flows into the second tank and into the 5 meter high waterfall, falling back into the third and last tank. From here it reaches the caves and finally flows into the tanks of the Tower of San Niccolò to be pumped back tinto the reservoir.
Finally we'll be able to admire Giuseppe Poggi's Ramps in all their original splendor!
The celebration for the inauguration of the Ramps, will be held on Saturday 18th May, from 4.00 pm to 11.00 pm, involving the whole area of ​​San Niccolò and Piazzale Michelangelo. Theatrical performances, live music, contemporary circus and guided tours of the Ramps, Iris Garden and Rose Garden await you. Later there will be a night show with water games. The event is free and not to be missed!