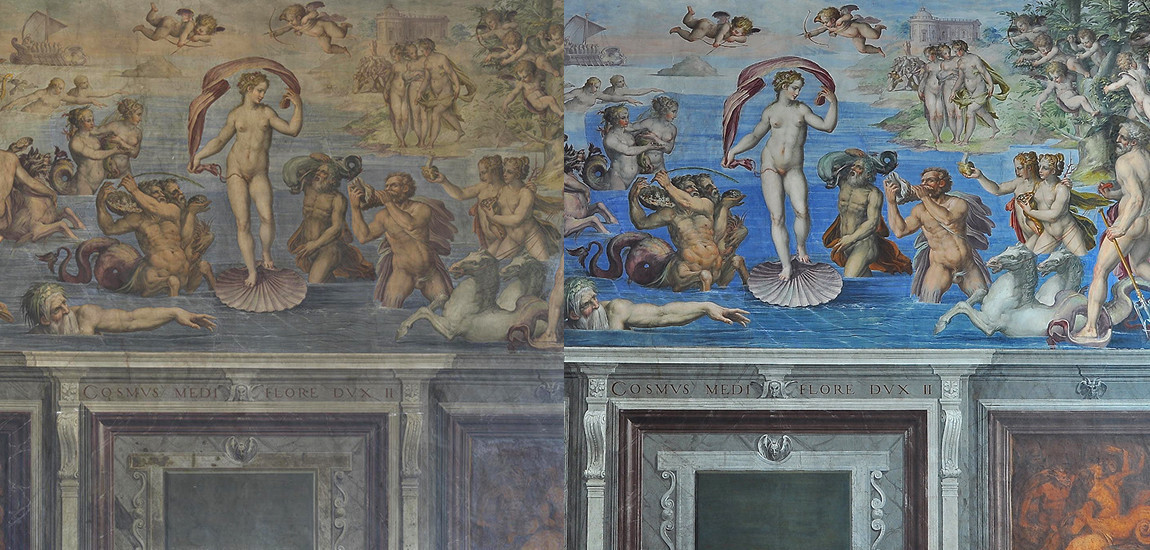 Sala degli Elementi reopens in Palazzo Vecchio
31-05-2019
Coming out polished from a two-year restoration, Sala degli Elementi reopens in Palazzo Vecchio, part of the Quartiere degli Elementi where each room is dedicated to a mythological divinity to which corresponds a character of the Medici family.
The hall, included in the private quarters of the Grand Duke Cosimo I, was created by Giorgio Vasari and his collaborators Marco da Faenza, Cristofano Gherardi and Giovanni Stradano.
The frescoes that cover the walls and ceiling of the hall narrate of the four Elements, Water, Fire, Air and Earth, which according to mythology are at the origin of the cosmos.
The pictorial cycle is read starting from the center of the ceiling, dedicated to the Air Element. Here we find represented the moment in which Saturn becomes king of the gods by means of deceit and violence, castrating his father Uranus and thus creating the Elements.
The seeds of Uranus were thrown on the Earth by Saturn and fell into the sea giving birth to Venus, goddess of Water, which in the wall dedicated to this element is rising from the waves surrounded by other sea deities.
The scythe, which Saturn had used to carry out the act of violence against his father, fell to Earth and formed the island of Sicily. Here is set the scene dedicated to the Earth Element, where the goddess Ceres gives its fruits to Saturno, protector of agriculture.
On the north wall of the room, instead, we find the representation dedicated to Fire, with the Forge of the god Vulcan. He forges the arrows of Cupid with the help of Venus and the Amorini, while the Cyclops manufacture the arrows of Jupiter.
On this wall we also find the fireplace designed by Bartiolomeo Ammannati.
An environment rich in history and with a strong symbolic meaning, celebrating magnificently the virtues of the Medicean dynasty, through the recovery of ancient mithology.