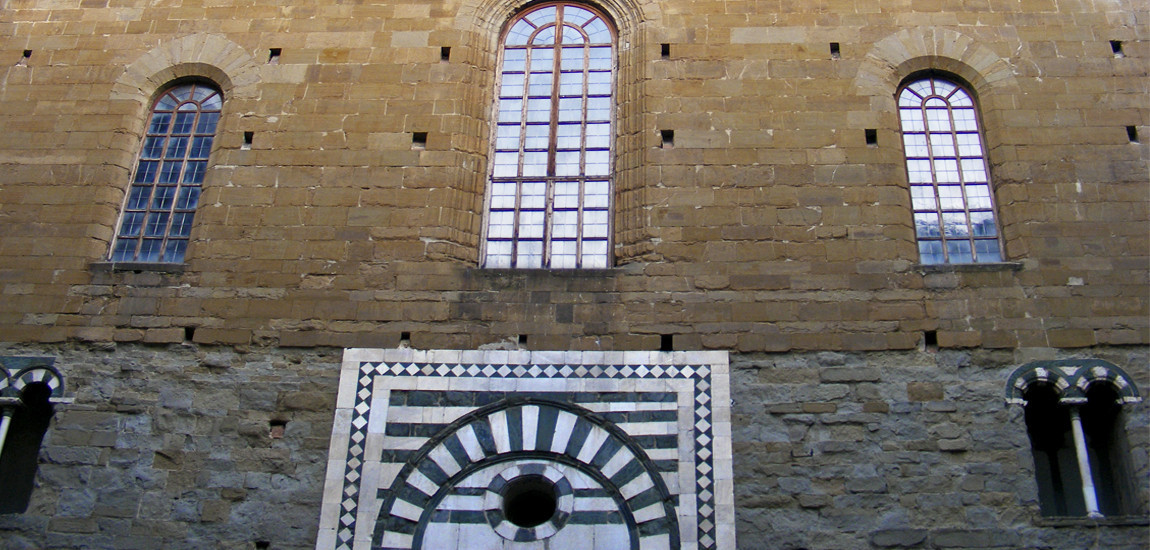 Santo Stefano al Ponte, a hidden church in Florence
One of the most well-hidden churches in all of Florence is probably Santo Stefano al Ponte. However, the name suggests where we can find it: in the small Piazza Santo Stefano, near Ponte Vecchio.

Founded before 1116, the year in which the first documentations mention it, the church of Santo Stefano al Ponte is among the oldest in the city.
On the sober façade of this church stands out the beautiful portal of white and green marble typical of the Florentine Romanesque style. The facade assumed its present appearance around 1230, but from the seventeenth century onwards the interiors underwent several radical renovations.
Inside, the structure of the church has a unique characteristic: there are no curved line, but only broken ones. This architectural peculiarity has been adopted to convey a message of theological nature: the broken lines that approximate the shape of the circle cannot become a real circle if not continuing towards infinity, a metaphor for the impossibility of the believers to reach divine perfection.
With the reorganization of the city center at the end of the nineteenth century, the stairway of Bernardo Buontalenti, a masterpiece of mannerism, arrived in Santo Stefano al Ponte from the church of Santa Trinita al Ponte. The high altar, a work of 1594 by Giambologna, comes from Santa Maria Nuova instead. More recent is the beautiful wooden white ceiling with plant motifs, which probably should have been refinished with gilding.
In the last century the church suffered numerous damages, first due to the bombings of the second world war, then because of the flood of 1966 and finally in 1993 following the attack in Via dei Gergofili.
Nevertheless, it was always promptly restored, and now Santo Stefano al Ponte is more beautiful than ever.
Today, a deconsecrated church, Santo Stefano al Ponte transforms into an auditorium for concerts and in an location of excellence for exhibitions. In recent years in particular, it has been chosen as the venue for multimedia exhibitions dedicated to artists such as Monet, Klimt, Leonardo or Van Gogh.
Even if it is hidden by the buildings of the center, go and look for it, this church will surprise you!