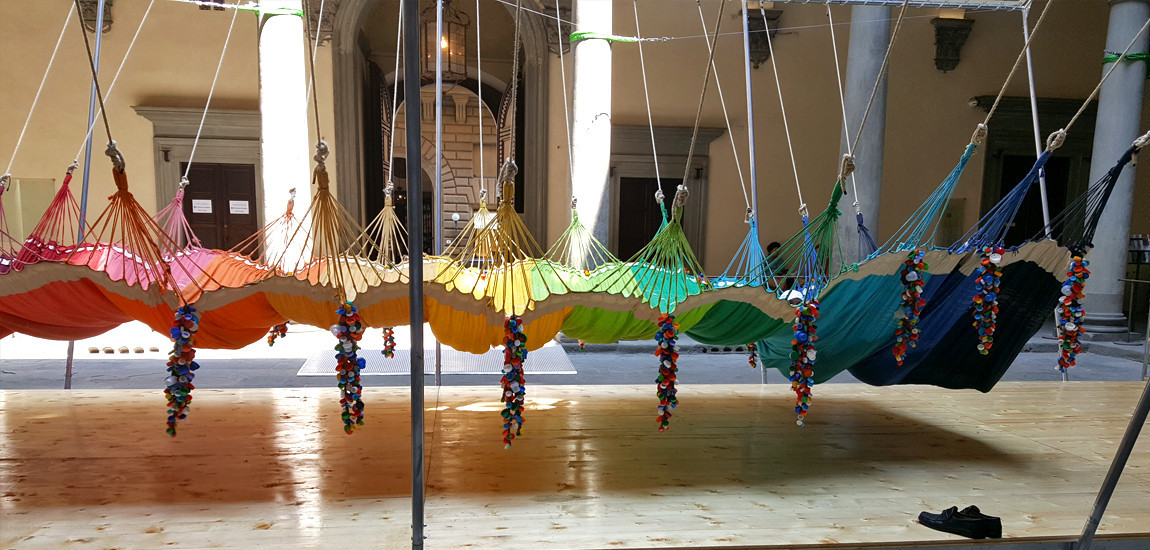 Rede Social in the courtyard of Palazzo Strozzi
The new site-specific installation that made appeared a few weeks ago in the courtyard of Palazzo Strozzi is truly a triumph of color. A series of 12 hammocks joined together form a huge rocking bed that will remain available to anyone who wants to participate in the experience, until July 14th. Whether you find yourself there to visit the exhibition about Andrea del Verrocchio, or you are passing through by pure chance, we suggest you to dedicate a few minutes to this peculiar work of performative art.
Part of the Beyond Performance project, produced and organized by Fondazione Palazzo Strozzi, CR Firenze and Osservatorio per le Arti Contemporanee and curated by Alberto Salvadori; Rede Social is a work of the Opavivará! Collective, made up of four young anonymous artists active in Rio de Janeiro, who bring their performances around the world.
The title of the work alludes to a "social network" that can connect people together, that has nothing o do with the virtual but, on the contrary, is based on real experience. The inspiration for this comes straight from the Brazilian culture, which is characterized by a strong spirit of community, freedom and openness towards the other.
So take of your shoes and put them in the special shoe racks, take a moment to relax on this great hammock and forget about the outside world: it's time to focus on human relationships and pull the plug, while remaining connected with the people around you. The experience will certainly make you smile.