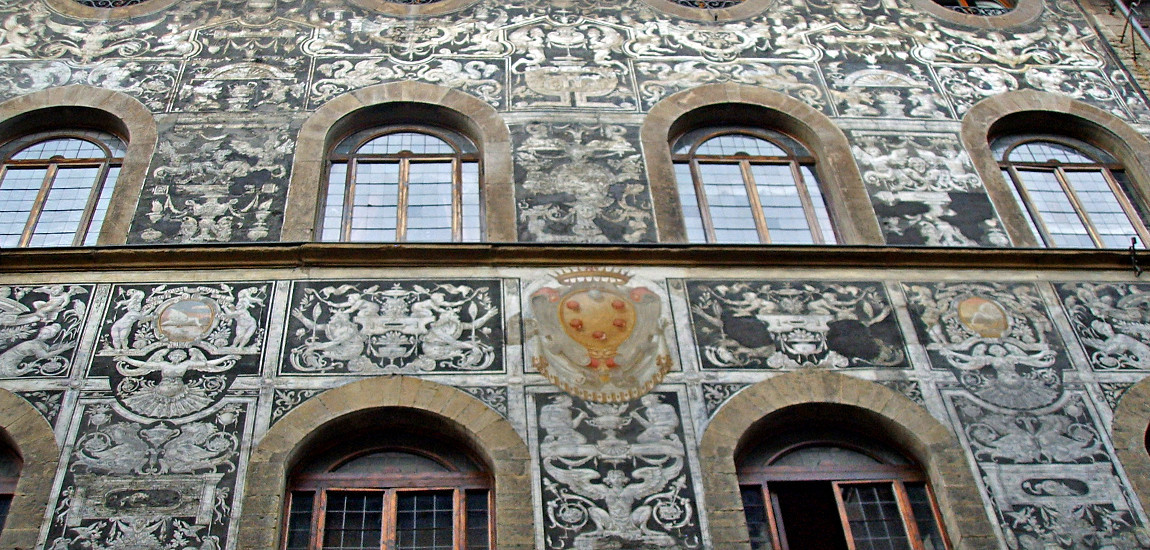 The Palace of Bianca Cappello: a love story and a series of misterious deaths
In via Maggio at n. 26, there is a very particular building, recognizable by its beautiful facade entirely decorated with grotesques.
First documented architectural work of Bernardo Buontalenti, the palace was commissioned by Francesco I de' Medici and built, between 1570 and 1574, upon an old fifteenth-century building.
Francesco I, then married to Joan of Austria, fell madly in love with a Venetian noblewoman named Bianca Cappello, who was also married. The palace in via Maggio was conceived precisely to make it possible for the two lovers to meet in secret, connecting it via an underground corridor to Palazzo Pitti.
After the wedding Bianca moved to Palazzo Pitti, in 1573. It was then that she ceded the building to the Hospital of Santa Maria Nuova and that the facade was decorated with graffiti with the current grotesque motifs created between 1579 and 1580 by Bernardino Poccetti .
Today the Palazzo Bianca Cappello belongs to private individuals who have transformed it into a luxury hotel.
Strange deaths
Shortly after they began dating, the respective spouses died under suspicious circumstances: Joan of Austria fell down the stairs in 1578, while Bianca's husband was attacked in the street.
Both widowed, in 1579 Francesco I and Bianca were finally able to marry, but their union, poorly seen by the ruling family, lasted very little.
After a dinner organized at the Medici villa in Poggio a Caiano, on 8 October 1987, the couple fell ill, suddenly struck by a strange fever. Both were kept under strict isolation by Francesco I's brother, Cardinal Ferdinando, who is suspected of having had a hand in their death, which took place a few hours apart from each other on October 19.
Was it malarial fever or was their premature death nothing more than a poisoning engineered by Francesco's brother, who had never looked favorably on their union? Certainly the causes of the premature death of the two spouses is incredibly suspicious.
The aversion that Ferdinando felt towards Bianca was so great that he did not even deign her of a burial suitable for a grand duchess, and while the body of Francis was buried in the basilica of San Lorenzo, that of Bianca received an anonymous burial, away from her consort.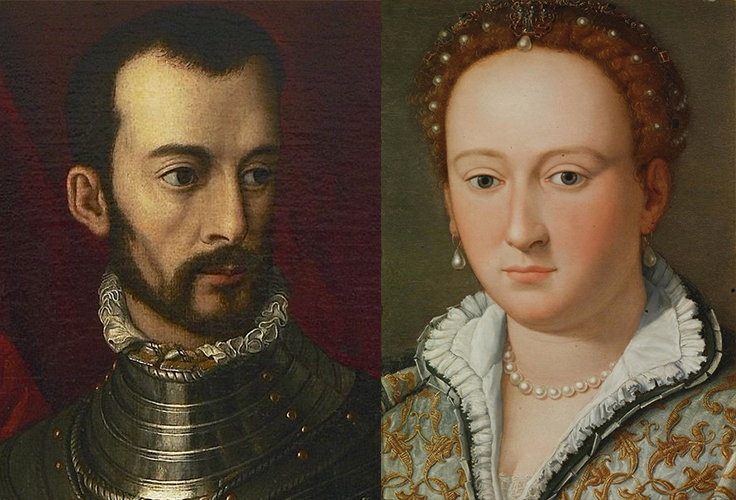 The corridor of lovers
Ferdinando then proceeded to erase all traces linked to Bianca's memory in the city: he had the portraits of Bianca destroyed and her coat of arms replaced with that of the Austrian house wherever it appeared coupled with that of the Medici house. Today Bianca's coat of arms can only be found on her building in via Maggio.
The beautiful palace of Bianca Cappello, with its richly decorated facade, is all that remains of her, a place that retains the memory of the love story between her and Francesco I. In particular, theater of the meetings of the two lovers, was the secret corridor, which connected the Palazzo di Bianca to Palazzo Pitti.
A passage no longer viable today, but which provided to be a perfect escape route during the Second World War. Through it, the artworks of the Vasari Corridor could be rescued, preventing them from being stolen by the Nazis.