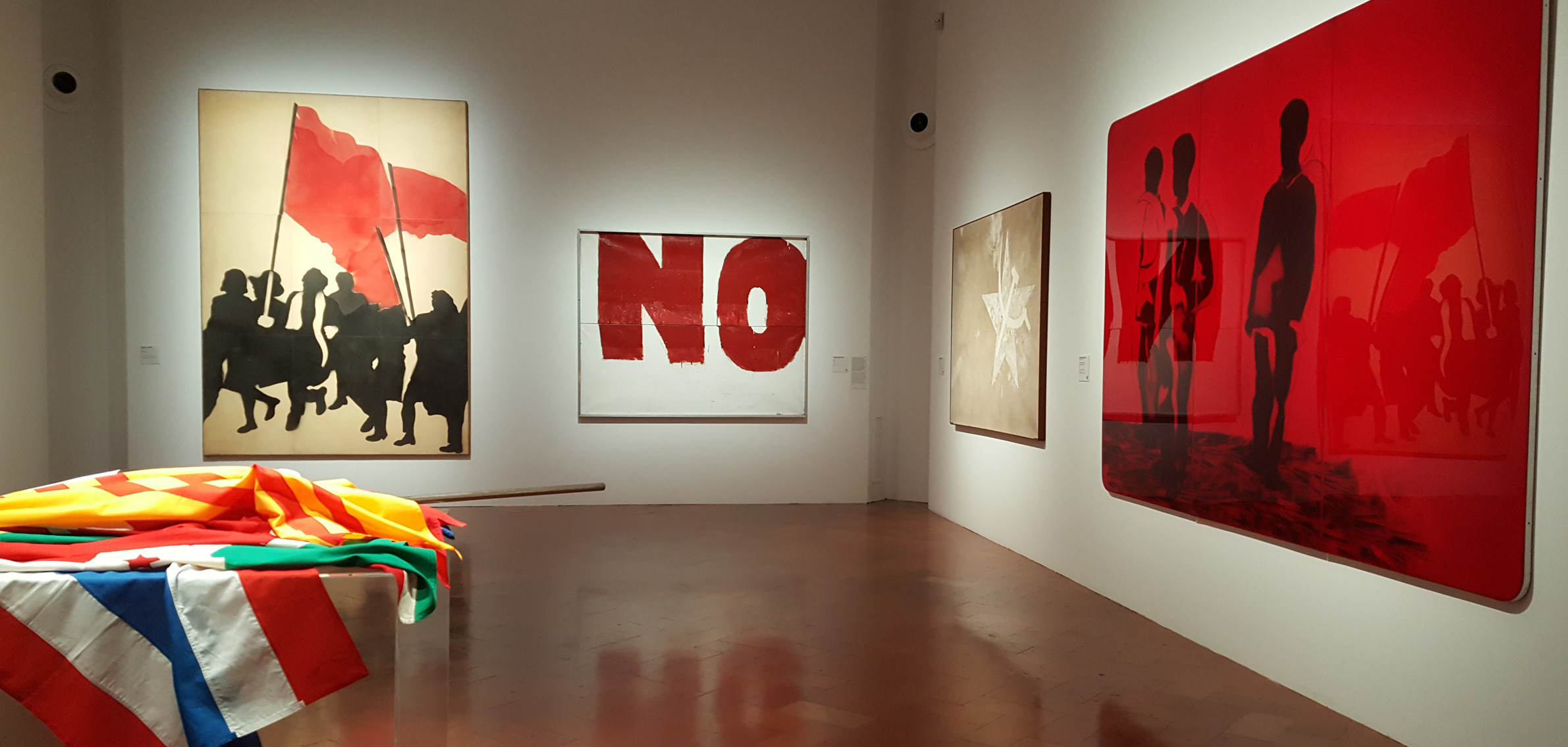 Dawn of a Nation at Palazzo Strozzi
20-03-2018
Last week at Palazzo Strozzi opened another great temporary show, Dawn of a Nation – from Guttuso to Fontana and Schifano. The exhibition curated by Luca Massimo Barbero gives us an insight on Italy after World War II.
Eighty works by Italian masters such as Renato Guttuso, Lucio Fontana, Alberto Burri, Emilio Vedova, Piero Manzoni, Mario Merz, Mario Schifano and many more, retrace the years of the so-called "economic miracle" that transformed Italian society, from the 50's to the revolutionary year of 1968.
The exhibition opens with a big canvas by Renato Guttuso, The Battle of Ponte dell'Ammiraglio set in dialogue with a series of video installations: art, cinema, fashion, politics, all bits and pieces of a post-war Italy.
Setting out from the diatribe between Realism and Abstraction Guttuso's work is followed by those of Giulio Turcato, Mimmo Rotella and Enrico Baj, artists with very different styles, just like the ones that the visitors will find in the following rooms, because here Informal Art, Arte Povera, Conceptual Art and Pop Art all come together in one exhibition to illustrate the new heterogeneous Italian artistic scenery.
Italian artists active in this period gave a crucial contribution to today's contemporary art scene, introducing new languages and new materials; this becomes evident to the visitors as soon as they find themselves in front of Alberto Burri's matheric works made of acrylic paint and jute pieces glued and stitched to together, but even more so when they see Piero Manzoni's bread loaves compositions.
It is of particular impact the room entitled "Monochrome as freedom", a completely white space, filled with tone-on-tone art works, among them we find another Lucio Fontana and numerous works by Piero Manzoni including his provocative Artists's Shit.
Passing by the Whale Tail by Pino Pascali, a monographic room dedicated to Domenico Gnoli, Mario Ceroli's installation entitled Burri, the upside-down Italy by Luciano Fabro and also a separated room with an interactive installation by Alberto Biasi we eventually come to the conclusion of this journey in which we witness the birth of the sense of Nation as seen through the eyes of Italian artists, who reinvented the concepts of identity, belonging and collectivity through the use of new materials and conceptual experimentation.
An immersive experience that shows us, with its continuous changes and its internal contradictions, that wonderful melting pot that is Italy.