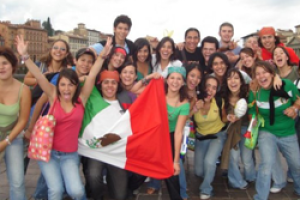 Offers for Groups
Art Workshops - Study tours and school trips - Special group programs
The Leonardo Academy organizes special group programs for study tours and school trips. It is open all year round and provides schedules and budgets tailored to the needs and demands of the various groups. Programs usually last one to two weeks and the most frequently made normally include a course in the morning and some activities in the afternoon. Courses can be attended by beginners and can be held in Italian, Spanish or English (the group must choose only one language to be communicated at the time of registration).
Courses that can be attended in the morning
- Art Courses (Painting, Drawing, Sculpture, see the list of Applied Arts section COURSES): total 15 lessons, 3 lessons a day for 5 days. Particularly requested are laboratory practice on painting techniques of the Florentine Renaissance (egg tempera, gold leaf, fresco).
- Italian Language Course: total 20 lessons, 4 lessons a day for 5 days.
- History of Art Course: the course consists mainly of guided visits to museums and monuments, the emphasis is naturally placed on the Renaissance.

Here are two one-week-courses already structured for groups, you can click on the titles to see the detailed day by day schedules:

- BOTTEGA FIORENTINA, centered on Renaissance techniques that students can experiment and apply in the laboratory and then recognize during the guided visits to museums and churches.
- RINASCIMENTO FIORENTINO, an Art History course that includes guided tours to the main monuments and art masterpieces that have characterized the Florentine Renaissance.
Activities that can be organized in the afternoon
- Guided visits at: the city center, the Uffizi Museum, the Accademia Museum (David), the Boboli Garden or Fiesole;
- One guided excursion to Pisa or Siena by train.
- Other activities can be organized in the afternoon, on request: Cooking Courses, excursions to the Chianti Region, leisure activities etc.
Prices for one week programs
3 art laboratories + 3 guided visits + 1 excursion to Siena or Pisa + 1 cooking lesson
5/11 students - 305 € per student
12/19 students - 275 € per student
20/29 students - 245 € per student
30 or more students - 215 € per student
Prices include: courses fees, museum tickets, train tickets, books, tests, exams and certificates.
Housing
Groups normally stay in hostels or hotels.
Transfer service
We organize Transfer Services on request from the Florence Airport or Railway Station to accommodations for 20 euro per person.
Budgets for customized programs
For a detailed budget we need the following data:
- Date and duration of the trip
- Number of students and accompanying teachers
- Type of course you wish to attend in the morning
- The language in which the course must be held
- Type of activity for the afternoon
- Type of accommodation required
- If you need a transfer from the Florence airport or train station to accommodations, we need to know all the arrival data