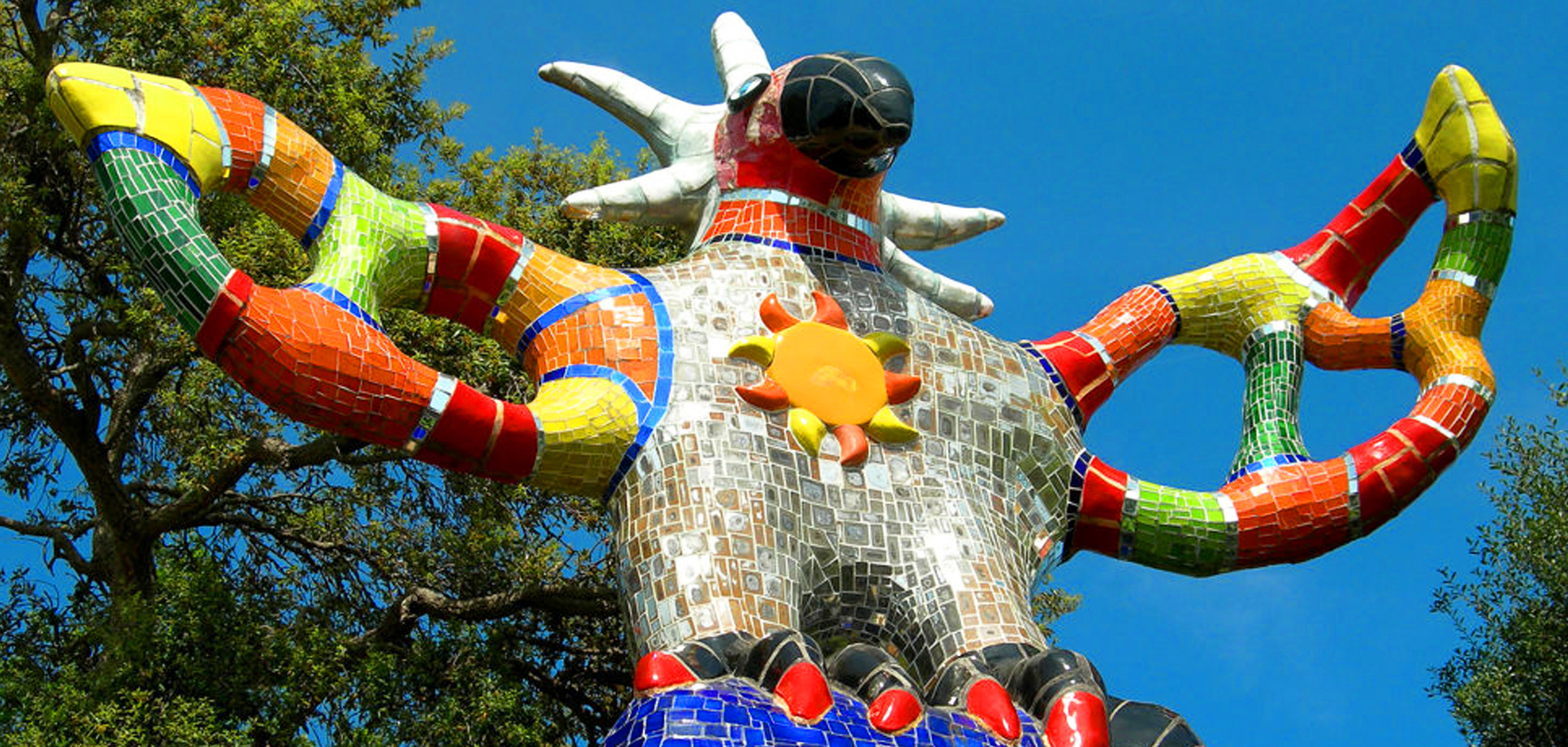 A trip out of town: Tarot Garden
20-07-2018
Florence is beautiful and you should dedicate to its museums and attractions as much of your time as possible when you come in visit; but so is the rest of Tuscany. You can find so many wonderful little cities scattered among our hills, so if you've been staying in Florence for a while, perhaps it is time to explore outside the Tuscan capitol as well.
If you want to see something unique and unusual, our advice is to go towards the most southern town of Tuscany, Capalbio. Located about 45 kilometers southeast of Grosseto, Capalbio borders with the Lazio region and it is also know as "Little Athens", due both to the environment and the artistic and historical importance assumed in the Renaissance. What interest us today though, is not this beautiful medieval village perched on top of a hill; go in the direction of the nearby Pescia Fiorentina instead where you will find the spectacular Giardino dei Tarocchi (Tarot Garden): a 14-acre sculpture park, designed by French-American artist Niki de Saint Phalle.
In 1955, after a visit to Antoni Gaudí's famed Park Güell in Barcelona, Saint Phalle felt she had found her vocation, her destiny: to build her own "garden of joy".
She secured a plot of land atop Etruscan ruins, that belonged to the wealthy Neapolitan Caracciolo family, then set out to create "the greatest sculptures of her generation…bigger and stronger than those of men". Her "folie de grandeur" pushed her to create monumental figures, that in their round, full shapes celebrate femininity; a femininity typified by her signature dancing ladies, known as "Nanas".
The Nanas symbolze free women, empowered, confident and happy, but also the feminine side of each one of us, woman or man.
The Tarot Garden is populated with Nanas and other figures, each representing a tarot card. They are bright, colorful sculptures covered in mosaics, that reflect the sunlight in a sparkling dreamlike vision.
One of the biggest structures of the park is stands the sphinx-like Empress, Saint Phalle designed it as a psychedelic mirror-covered space, that served as her home while she was working at the park, and that she had equipped with a bedroom, bathroom, and kitchen. She worked very hard on her project, pushing herself to the limit, both physical and psychological, but it was a work she shared with the many people who helped her – from glass-cutters to iron-welders, ceramicists and cooks - who she did not forget to thank, adorning the pillars in the Emperor's courtyard with their names.
You will hardly want to leave once you have immersed yourselves in the magical atmosphere of the Tarot Garden, but don't fret, we can assure you the magic will linger on, and this will be one of those places you will never forget.