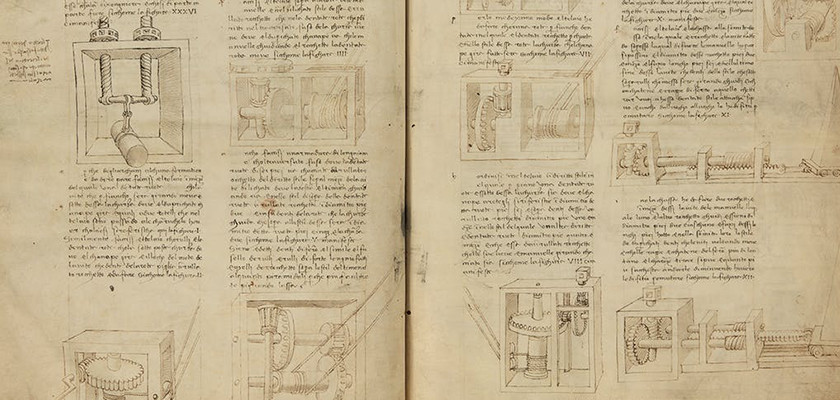 Leonardo and the Codex Leicester at the Uffizi
14-12-2018
The Leonardo Da Vinci painter of the Mona Lisa, the Last Supper and many other paint masterpieces is very well known. Not the same can be said for the Leonardo da Vinci inventor.
Leonardo was a particularly intelligent man, with an unusual thirst for knowledge fueled by a great curiosity towards the world around him. From 1482, he resided at the court of Ludovico Sforza, in Milan, where he had the chance to try his hand in every possible field, designing war machines, civil engineering works, fortification systems, scenographies for parties and banquets and architectural works of all kinds.
The new exhibition at the Uffizi, Water as Microscope of Nature - Leonardo da Vinci's Codex Leicester, celebrates the incredible man of science that was Leonardo.
Seventy-two pages full of writings, annotations and drawings illustrate the way of thinking and project of the great master.
The exhibition on display in the Magliabechiana Hall shows the sheets written between 1504 and 1508, focusing on plumbing studies. In them, Leonardo investigates the structure, the motions, the mechanical and optical properties of water and tries to find new ways to bend this volubile element to the will of man.
The study also includes considerations on the history of Earth and the nature of the Moon, showing how vast was the range of his investigations.
Alongside the Codex Leicester, original drawings by Leonardo and codex sheets of exceptional importance are on display. Among them, the 17th century anthology "Del moto et misura dell'acqua", the "Codex on the Flight of Birds", sheets from the British Library's "Codex Arundel" and those of the "Codex Atlanticus", illustrating his invention of the crane with central winch.
If you have a passion for ancient manuscripts, science and inventions, you can not miss this exhibition, which can be visited until January 20th.