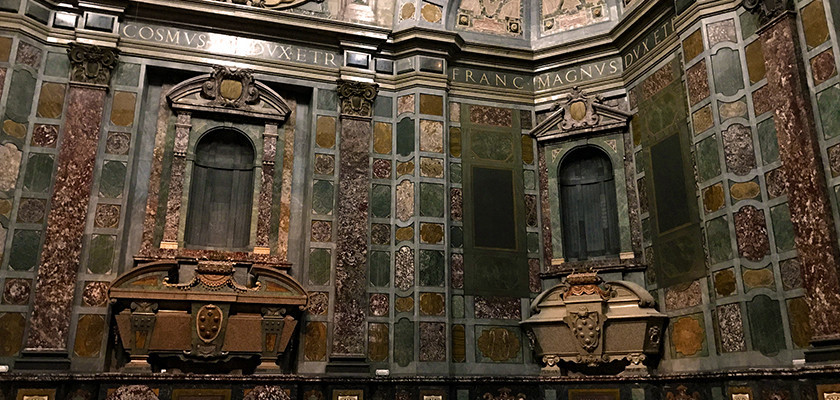 Medici Chapels: the Chapel of the Princes
10-02-2019
The Medici Chapels complex is part of the Basilica of San Lorenzo and includes the New Sacristy designed by Michelangelo in 1519, and the grandiose Chapel of the Princes built in the seventeenth century.
Hard to decide which space is the most beautiful, the first emblem of formal purity, the latter a triumph of color and splendor.
However, it is undeniable that the Chapel of the Princes is a rare gem, a real jewel set in the historic center of Florence. Looking at it from the outside, no one could never imagine that there is something so precious inside, but anyone who enters the octagonal space dominated by a dome that reaches a height of 60 meters, is left speechless.
For his project of a monumental family tomb, Cosimo I immediately thought of asking the help of his trusted court painter and architect, Giorgio Vasari, but in the end neither of them had the honor of putting his own signature on the work.
That's because the chapel was built by the successor of Cosimo, Ferdinando I, who in 1604 gave Matteo Nigetti the task to supervise the work following the project of Giovanni de 'Medici, son of Cosimo I and Eleonora degli Albizi.
Despite being born as a mausoleum, the real tombs are in the crypt designed by Buontalenti; instead, inside the chapel we find the cenotaphs of the grand dukes, each placed on a different side of the room: they are dedicated to Cosimo I, Francesco I, Ferdinando I, Cosimo II, Fernando II and Cosimo III.
Magnificent and colorful, the chapel owes its fame to the rich decoration of inlays in Florentine Commesso, a technique that born in Tuscany, taking up and perfecting an ancient Roman decorative technique.
It is often confused with mosaic, but the substantial difference lies in the fact that the pieces are not cut geometrically, but cut and juxtaposed as inlay in order to create more defined and detailed images, so as to look like a paintings.
It was precisely during the works for the Cappella dei Principi that, in 1588, the Opificio delle Pietre was founded at the behest of Francesco I, to train the workers necessary for the realization of the project.
Porphyry, granites, colored hard stones, mother-of-pearl, lapis lazuli and coral were used for the Commesso decoration, that saw in the Chapel of the Princes the moment of its highest expression.
The magnificent dome was painted much later, between 1828 and 1837, by Pietro Benvenuti.
It seems hard to believe, but the decoration of the Chapel of the Princes was completed only recently, in 1962!
A work of immense value for the Florentine artistic heritage, with which the Medici family managed to celebrate their greatness. Absolutely a must-see!