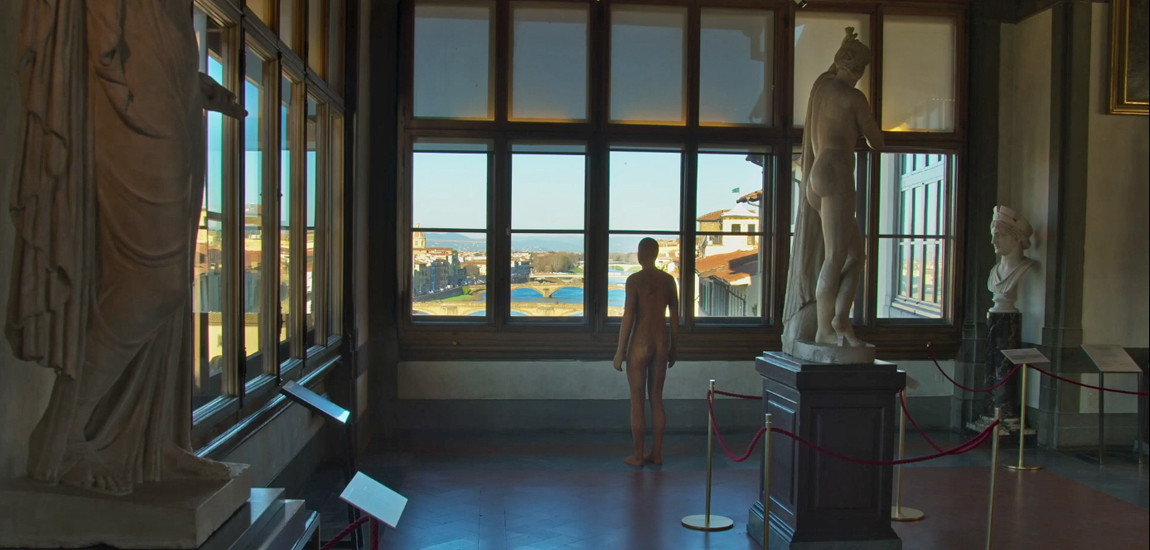 Antony Gormley is back: ESSERE at the Uffizi Gallery
If you happen to walk by Piazza della Signoria these days and in looking up you see a man on the Uffizi terrace, above the Loggia dei Lanzi: do not panic. It is not someone on the verge of suicide, it is only a sculpture by Antony Gormley, part of his solo exhibition titled ESSERE, now on display at the Uffizi Gallery.
The British artist whose exhibition we admired at the Forte Belvedere in 2015, has eturned to Florence with fifteen sculptures, reflecting once again, on the human figure. This time, the reflection is on the human body in space and as space.
Twelve of his sculptures, made of different materials and dimensions, are on display in the Magliabechiana hall on the ground floor, the new space dedicated to temporary exhibitions at the Uffizi Gallery; while two more sculptures are placed among the permanent collection of the gallery, and one is found on the terrace.
The exhibition proposes known work as well as new ones created for the occasion, such as Veer II (2018), a life size cast iron evocation of a tense nervous system at the center of the body.
A surprising relationship with Florence's cultural heritage reveals itself through the works exhibited among the classical sculptures in the gallery and on the terrace. We see this in particular in the iron sculpture Settlement (2005), that lies on the floor next to the beautiful sleeping Hermaphroditus - a Roman copy of the Imperial Age from a Hellenistic original of the 2nd century BC - showing a strong connection with the historical collection of the Uffizi.
Antony Gormley's curious and complex works of cast iron, steel, fabric, cement and clay mix extraordinary well with the marble statues and painting of the Uffizi Gallery, so much so, in fact, that it looks like they'd always been there. It is now a good time for visiting the Uffizi, Gormley's exhibition will be open until May 26th!