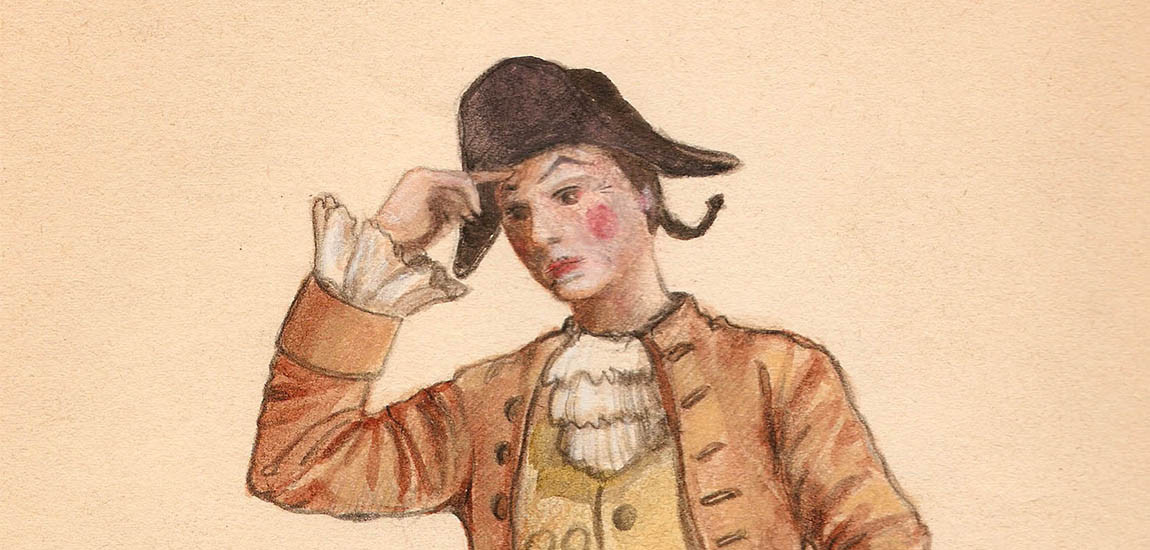 Stenterello: a Florentine Carnival mask
In Naples there is the famous Pulcinella, in Venice there is Colombina and in Bergamo there are Arlecchino and Brighella; but even Florence has its traditional carnival mask! It is called Stenterello, and owes its name to its puny and haggard appearance, that of a man who seems to have, in fact, grown up in hardship (from the italian "stento", hardship).
Stenterello represents the Florentine people of low social background, who manage to overcome adversity with a smile on their lips and humour at the ready, always finding the strength to laugh and make jokes.
A man of great irony, with a costume that reflects his character.
He wears an eighteenth-century style dress in bright colors, usually composed of a light blue jacket, sometimes with red trim, a canary yellow waistcoat, black knee-length pants with two different socks underneath, one red and one with colored stripes; while on his head he wears a white wig with a pigtail and a black tricorn.
Stenterello was conceived, at the end of the 1700s, by Luigi Del Buono, who had been a watchmaker by profession until 1782, in his workshop in Piazza Duomo. However, his passion for theater led him to abandon that profession to pursue the stage. He became director of the Florentine Academicians at the Ognissanti theater and eventually founded his own company in 1791.
Just like his Stenterello, Del Buono was very thin, furthermore, his small stature, arched eyebrows and his predisposition for comic acting, made his interpretation of Stenterello memorable, and helped to bring popularity to the Florentine mask.
Stenterello expresses himself in the Florentine vernacular, but he is never vulgar. He is a chatter, impulsive, fearful, but also wise and intelligent and kind-hearted. He always takes the side of the weakest, even if he ends up shaking with fear when it's time to act.
This contrast is precisely the centerpiece of his comedy. A wimpy hero who we can only get a smile from us.
The Stenterello mask has experienced great fortune in the past, and although at times it has remained somewhat in the shade, it has never been completely forgotten.
Florence continues to love this character, in honor of which a plaque was even hanged in Borgo Ognissanti at n.4, where we read: "In this building the Borgognissanti Theater was housed in 1778 where Luigi Del Buono (1751 - 1832) created the mask of Stenterello, popular Florentine joker character, teased and witty, that has remained in the memory of the city".