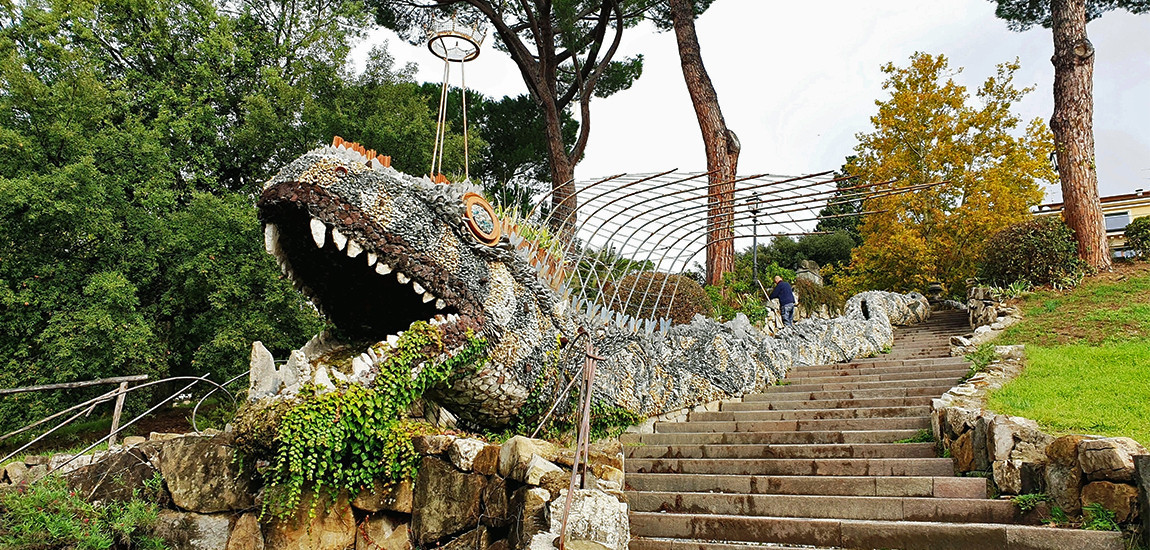 The Gardens of Florence - Gli Orti del Parnaso
Many know the Orticoltura gardens because of the flower fair held here every year and the majestic Rooster's Tepidarium, the large white iron greenhouse that dominates the surrounding landscape.
However, not everyone knows of the existence of a second garden overlooking the Orticoltura gardens, often frequented only by residents, couples and students from nearby schools and universities looking for a quiet corner where to take a break from their studies.
The Orti del Parnaso can be accessed both from an uphill road that sets off from behind the Tepidarium, and from a direct access from Via Trento 11.
Entering from here you immediately encounter a breathtaking panorama of the city, which you can stop and admire while sitting on one of the benches under the tall pine trees that shade the panoramic terrace.
Looking away from the Florentine skyline, you will immediately notice the bizarre sculpture that descends from the basin on top of the belvedere down the staircase and culminates in the head of a winged snake (or dragon).
A series of stones of various shapes are expertly arranged in the guise of scales and cover the entire surface of the beast, that with its wide open mouth directs a silent roar towards the city center.
The garden takes its name from Parnassus, a mountain in Greece which in ancient times was consecrated to the god Apollo and his muses, who according to legend lived here.
From the mountain gushed a purification spring, which served as a passage to the underworld.
The statue, built in 1990 to a design by Marco Dezzi Bardeschi, refers to the myth of Python, the enormous dragon-snake, son of Gea, created by kneading the mud produced by the Universal Flood. A creature with pestilential breath, so large that it could wrap the city of Delphi seven times in its coils.
The monster was the guardian of the Oracle of Delphi and it was Apollo who defeated him on Mount Parnassus and later instituted the Pythian games, precursors of the Olympic games.

The Orti del Parnaso remain surprisingly unknown to many, especially tourists who often do not venture outside the center of Florence. However, we recommend a visit to this oasis of tranquillity, the view is spectacular and you can really treat yourself to a moment of relaxation away from the buzz of the historic centre.