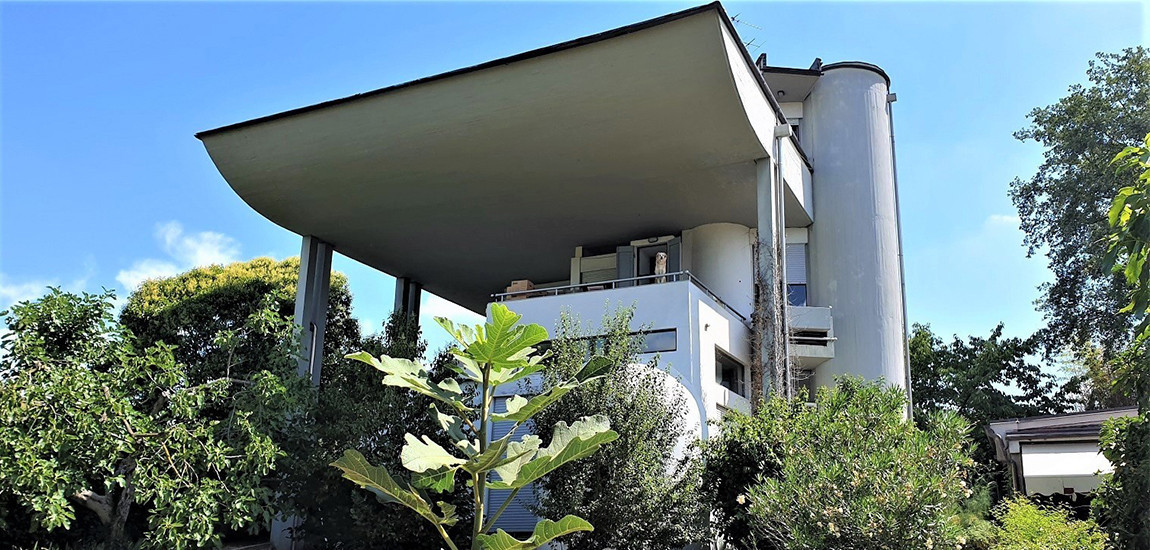 Beyond the Renaissance in Florence - Villa Bayon on the San Gaggio hill
Along the old provincial road to Siena, at the top of the San Gaggio hill, there is a beautiful residential area, a network of narrow streets that lead to villas in the countryside. All very elegant but one is different from the others: Villa Bayon. Commissioned in 1963 by the Bayon family to the architect Leonardo Savioli and completed in 1967.
The 1960s were the most productive years for Savioli, who then also built in Florence the public housing buildings in Sorgane, the building in Via Piagentina, Ponte Giovanni da Verrazzano and Villa Taddei in San Domenico.

Savioli is not an architect who seeks a relationship with the context, with the landscape, he has never done so. It was not his way, neither did Michelucci, his teacher, nor did his friend and colleague Leonardo Ricci. This made him much freer in designing his buildings, all with a strong identity. Villa Bayon stands out autonomously and presumptuously among the green hills, different from all the other surrounding villas, characterized by rich and modern architecture, but more traditional, hidden and respectful of the landscape.
The structure has a large practicable roof-terrace in reinforced concrete, projecting and supported by high pillars. It is also an element present in the residential building of via Piagentina and clearly inspired by the roofs of Le Corbusier, such as the roof of the Chapel of Notre-Dame du Haut in Ronchamp.
The canopy covers a large part of the structure which presents itself with very articulated separate volumes, square, rectangular, circular, with balconies and windows of different sizes, with different frames and sills. This irregular alternation between empty and full is a stylistic element widely used by Savioli.
Of great visual impact are the domed cylinder of the fireplace and the terrace above the central body.

The construction had a lot of success with critics, who have always emphasized its originality and appreciated the contrast between the brutalist style and the lightness and symmetry of the living spaces. The villa appears as a sturdy protection for the delicate family life.
A hidden jewel in the Florentine hills, little known, but worthy of a visit, if only a stroll among these beautiful and picturesque streets, among prestigious villas and centuries-old trees.