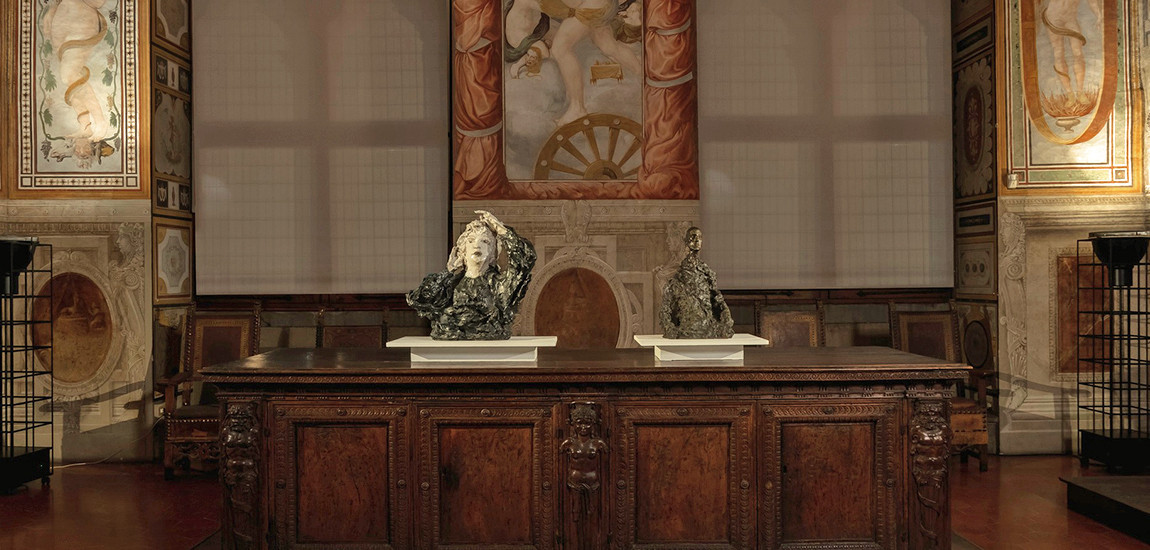 A Giacometti - Fontana duet at the Museum of Palazzo Vecchio
Alberto Giacometti and Lucio Fontana duet in Giacometti – Fontana. La ricerca dell'assoluto ("The search for the absolute"), the exhibition hosted until June 4th in the Sala delle Udienze and in the Sala dei Gigli of the Museum of Palazzo Vecchio.
These two pioneers of 20th century art, one of Swiss origins, the other of Italian-Argentine origins, though very distant from each other, are here compared for the first time and it turns out that they are actually very similar. It does not surprise that both artists studied Cubism and Surrealism in Paris, great sources of inspiration for them.
On the one hand there are the works of Alberto Giacometti, a painter and above all a sculptor, who's interest was the representation of the human being, that he reworks into figures with elongated and elegant shapes, strong and fragile at the same time.
Emblem of his poetics and formal research is the very famous The Walking Man I, which puts in contrast the resistance and solidity of the material (the bronze of which the sculpture is made) and the apparent fragility of the figure represented. "Apparent" because, despite his slender body, the man seems determined in his gait, perfectly expressing the condition of the human being: an ephemeral creature, fragile but at the same time strong, capable of overcoming great obstacles and enduring great pain, but continuing to move forward.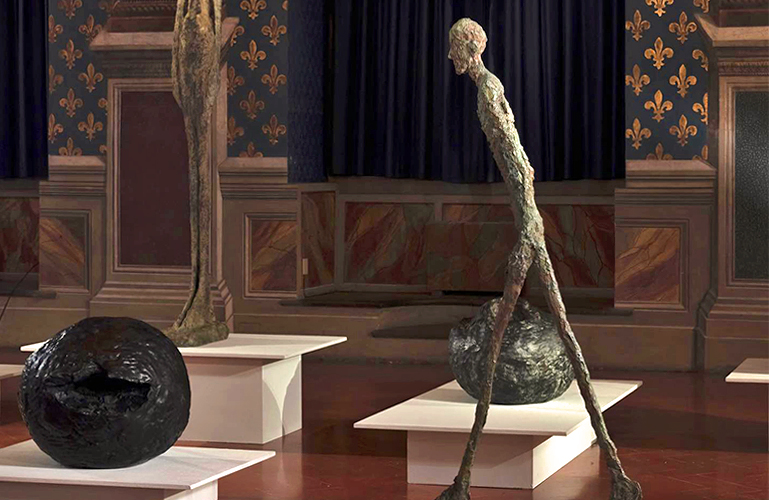 On the other hand there is Lucio Fontana, another artist with unmistakable style, famous above all for his cuts on canvases and here present on display as a sculptor. By cutting the surface of his works, Fontana tried to reach beyond its dimension, beyond the canvas, to go and see what was behind it. He therefore created a new dimension, tending towards infinity.

Two very different artists, but linked by a a common experimentation of the matter and anthropological reflection. Through the attrition of matter, both try to represent and therefore reach the immaterial, the absolute, the divine.
Not to be missed, this duet and debate between the works of the two artists, which reveals to be perhaps one of the most interesting and surprising in the recent exhibition scene.