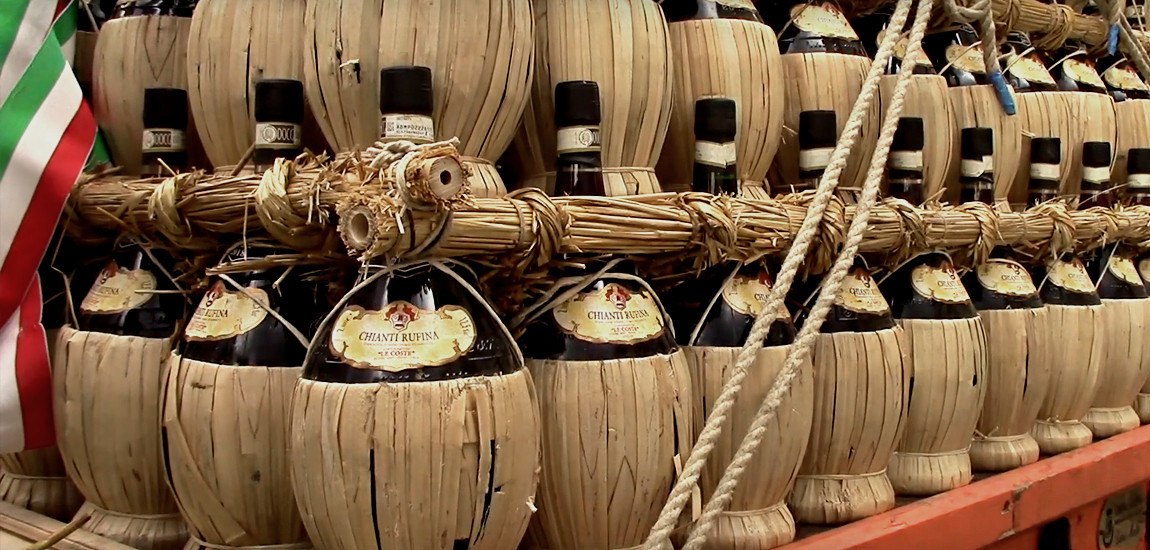 When the Carro Matto arrives in Florence
The fourth Saturday in September sees the Carro Matto (Crazy Cart) parade through the streets of the historic center of Florence, a tradition that has its roots in fourteenth-century Florence.
At the time, the wine mostly came from the Chianti area, now known all over the world for the production of fine wine, which has become a symbol of Made in Italy.
Rufina is also part of this area, the town from which the Carro Matto departs, pulled by Chianina oxen, and reaches Florence carrying more than 2000 flasks of new wine artfully stacked in the shape of a trapezoidal pyramid.
Already in the fourteenth century, wine was bottled in special glass bottles with a round bottom called "fiasco", which the "fiascaio" (fiasco makers) produced by making both the glass bottle and its woven straw support, necessary to make it stand upright and maintain the quality of the wine contained within thanks to the thermal insulation guaranteed by straw.

This wagon loaded with flasks was called "matto" (crazy), perhaps because it was in itself madness to think that the flasks of wine assembled in such a precarious way could survive the long journey on the dirt roads of the Tuscan countryside, or perhaps simply because upon their arrival in city the Florentines the florentines would have gone mad with joy drinking to their heart's content.
Every year a historical procession of the Florentine Republic starts from the Palagio di Parte Guelfa and joins the Carro Matto in Piazza Duomo, where the blessing of the Cart and the offering of wine to the religious authority takes place.
Then the procession moves to Piazza della Signoria, where the flag-wavers perform and the wine is offered to the civil authorities.
A centuries-old tradition that is still kept alive today with the aim of both celebrating the great Tuscan tradition of wine production and recreating the special event of the arrival of the new wine in the city.